The Perfect Birthday Party Entertainer for your Child's Special Day!
You want to give your child the perfect party with the best birthday party entertainer!
They are amazing and you want them to realise how much you love and value them!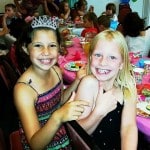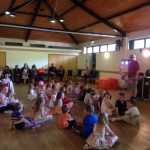 "WOW! Thank you so much, Benny, for an amazing party"
Becki Haylock – Stubbington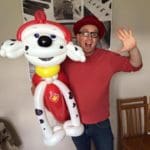 "EPIC! Highly recommended"
Jeanine Antonio – Bishops Waltham
With all their friends around and other parents too, you want to ensure everyone leaves not only happy but impressed so that your child is the talk of the playground for the right reasons on Monday morning!
But more importantly, you want that feeling you get when your child thanks you for the best party ever and tells you that you are the best parent in the world!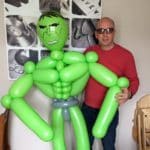 "What can I say! The best party entertainer we have ever had"
Emma-Jane Badley – Fair Oak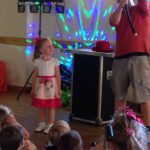 "I've never seen so many children so entertained, for so long"
Jo Oxon – Southampton
"Thank you so much, Benny, for making my sons 3rd birthday party absolutely amazing on Saturday. You turned up early, and rather than waiting to start on time, you even helped us blow up a few balloons! Everybody at the party was 'wowed' by your amazing creations, it got all the children (and adults!) involved and laughing, and everybody constantly told me how great you were. So thank you once again, I highly recommend and would definitely use you again"
Nina Rahman – Portsmouth
Don't take a chance on your child's special day
Find someone reputable to make this happen for you…
With over 10 years experience of entertaining kids.
Who has full CRB check available on request
Is fully insured and a member of Equity
Someone who's balloon work has featured in magazines, national newspapers and television.
Has worked with celebrities and high street brands.
Has great reviews from other parents.
Who offers a 100% money back guarantee.
"By far the BEST party ever!!! I cannot thank Benny enough for how amazing he was! My son had the best 5th birthday ever! His party will certainly be the talk of his class! Everyone enjoyed their self including the parents I personally haven't laughed that much in a long time! Would 100% book him again and would certainly recommend him to anyone! Hands down the best party entertainer I have EVER seen everyone complimented him! Thank you again"
Leanne Carrol – Hythe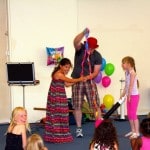 Book a party with Benny Balloon and experience the feeling that every parent has when they see their child, surrounded by their friends, having the perfect day!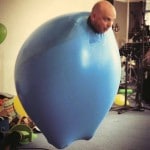 Two hours of Balloon Artistry

Every child leaves with a balloon

Ideal for a party with younger, quieter kids

Great complimentary entertainment if you already have a bouncy castle booked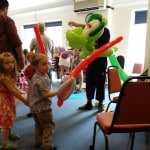 Everybody loves balloons!
But the balloons that Benny makes are not only loved, they also impress everyone at the party in this two-hour package!
Everyone will be amazed by these fantastic interactive balloon sculptures.
A five-foot-long dragon, a life-size princess, a horse, unicorn, helicopter or motorbike to ride around on.
These are just a few of the many balloons Benny can create at your event.
The size and complexity of the balloons are adjusted according to time and how many guests are present.
Special care is always given to ensure the birthday child has an extra special sculpture that fits in with their interests and characteristics.
40 minute Magic Show

Special Balloon for birthday child

One hour of Balloon Artistry

Every child leaves with a balloon

Ideal for a party at home

The Benny Balloon Magic and Balloons option starts with a 40-minute interactive magic show followed by fantastic balloons artistry. Guaranteed to create an unforgettable two-hour party!
Each magic show is adjusted to suit the age range and temperament of the children present ensuring every child has a great time.
The show includes amazing magic that will make your child squeal with delight. Fantastic balloons that will make your guests gasp. Lots of interaction and comedy that will ensure laughter and fun for the whole time.
Watch your child's face light up as their special large sculpture is made and given to them, this will undoubtedly be the highlight of the party.
This package guarantees to give you an unforgettable 2 hours filled with amazing magic and fantastic balloon artistry!
40 minute Magic Show

Including the amazing man-eating balloon routine

Special Balloon for birthday child

One hour disco party

Lights and Music

Dance routines taught

Party games

Balloon prizes

Every child leaves with a balloon

Ideal for a party at a hall or community centre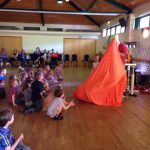 For the best two hours entertainment package, look no further than the magic and disco package. All you need to do is provide the venue, food and drinks and then sit back and let Benny organise everything else.
The party starts with a bit of music and a few games while all the guests arrive. Then comes the Benny Balloon Magic Show, guaranteed to entertain, amaze and impress.
This 40-minute magic show includes a special large-scale balloon sculpture for the birthday child and climaxes with the amazing man-eating balloon routine.
There is a short break after the show for food, then as the children finish their food they move on to the disco section of the party.
This package includes Games, Dance Routines, Balloons Prizes, Lights, Music and lots of Fun for EVERYONE!
2 hours of the best entertainment available.
To check availability, simply click the button below and fill in a few details and we will get straight back to you…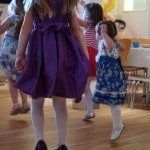 All packages are covered by the Benny Balloon Guarantee…
"If you are not totally happy with my performance at your party for any reason, then I will give you a FULL refund"
Benny Balloon
"Benny, you absolutely made our little boy's party last night, everybody had so much fun! No one wanted to leave! We just want to do it all over again! Especially my dad in the Dragon balloon you made (which has been running around the garden today!) And the Tom & Jerry Balloons you made for Max, Wow! He was made up with them. I would 100% recommend you to anyone planning a party and thank you for making sure everyone had a special balloon to take home with them. Max has already asked if he can have Benny Balloon for his party next year! Thank you once again, you were absolutely brilliant"
Anna Linwood – West End
Covering Southampton, Portsmouth, Winchester and the Whole of Hampshire.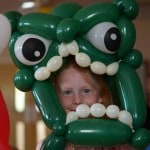 "Wow, what a fantastic entertainer. I booked Benny for my daughter's party where the kids went from 1 years old to 9. He had the kids eating out of the palm of his hand from the word go! So much energy and 100% focused on all of the kids. Even after he left there was such a good atmosphere amongst everyone. Totally worth every penny"
Jo Bridle – Southampton